With the Account Portal, you can manage your licenses and adjust UpSlide's configuration settings for your team.
To access the Account Portal, go to portal.upslide.net. Your login details should be provided to you by your UpSlide account manager. If you have any doubts or need another login to access the portal, don't hesitate to contact us at support@upslide.net.
Welcome page: License and options pool
On the portal's main page, you'll find:
A summary of all the licenses assigned and available and the options subscribed.

A detailed view by account if teams are separated into different entities.
The Details by Account allows you to purchase new licences or options. If you manage multiple accounts, you can use this area to transfer licenses from one account to another.

Changing users and licenses
On the home screen, select Manage to see all existing users. You can add and delete users, transfer a license, and purchase new licenses when needed.

About the license status:
Assigned: the user has been granted a license but has not activated UpSlide yet.
Activated: the user has activated UpSlide.
Expired: the user has used UpSlide in the past but has not since the annual license renewal date.
N.B. the if the renewal date was recently then it's normal that some users are at this status. You can check your renewal date by looking at the license expiration date of a user clicking the > for more information.
Adding one user at a time
To assign a license to a new user, click on Add a user. The popup allows you to fill in the necessary information such as email address, which account they should be part of, and the options they might need. You can also add tags to manage your teams better.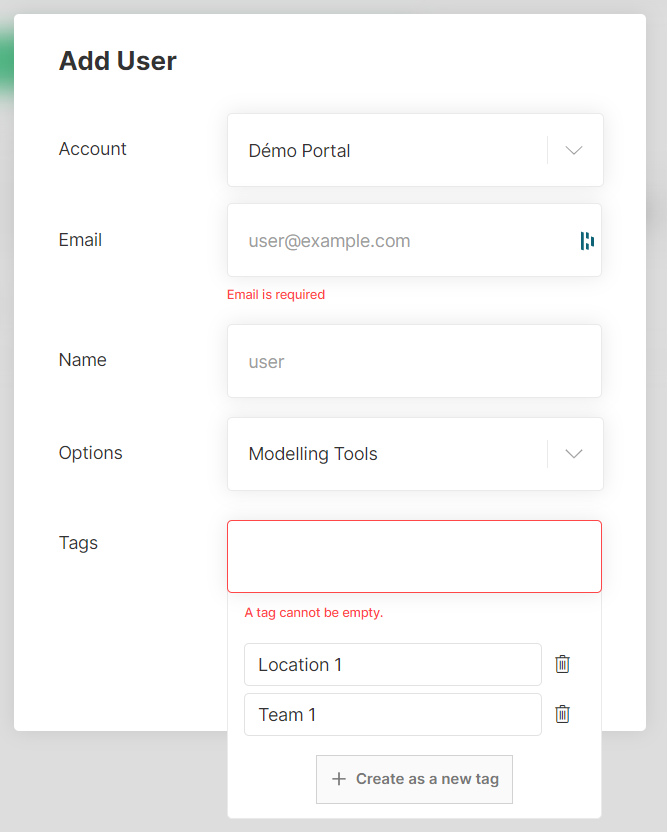 Info
Available options depend on what you have purchased and assigned. If you have purchased two administrator options and have them both assigned to other users, you won't be able to give this option to a new user until you remove it from an existing administrator.
Editing or removing one user at a time
To edit user information or the options assigned, click the ✏ button. You can then make the necessary modifications. The changes will be applied to the user when they restart Microsoft Office.
To delete a user from the user list, click the 🗑 button. They will lose access to UpSlide after restarting MS Office.
To reassign a license to a different user, delete the former, then add the new user.
Adding or editing multiple users simultaneously (English language setting on the machine)
Click Export, and select if you wish to download a CSV or XLSX file. It will contain the list of all users.
Editing existing users: each row refers to a different user. Modify the rows as you wish.
Adding new users: add new rows of data to the bottom of the list while following the file format.

Tip
If you want to add multiple tags, separate them using the pipe symbol, e.g. Tag 1|Tag 2|Tag N
Once you have made your edits, click on Import to upload the changes to the UpSlide license server. These changes are instantaneous, so newly added users can immediately activate UpSlide and users with newly added options can restart MS Office to access the additional functionalities.
Adding or editing multiple users simultaneously (other language settings on the machine)
If you do not use English on your machine, we strongly recommend downloading the user list as XLSX. On English machines, CSV files are comma-separated. It is not the case with other system languages so, if you use CSV, you will need first to prepare the file to edit it easily.
Below are the instructions if your computer's system isn't using English and choose to download a CSV:
Export the user list in CSV as described above.
Open the CSV in a text editor such as Notepad and use Replace all ; by ,
Save the CSV, then open it in Excel.
Select all the data and use Excel's Text to Columns found in the Data tab.
Choose Delimited and use the comma as your delimiter.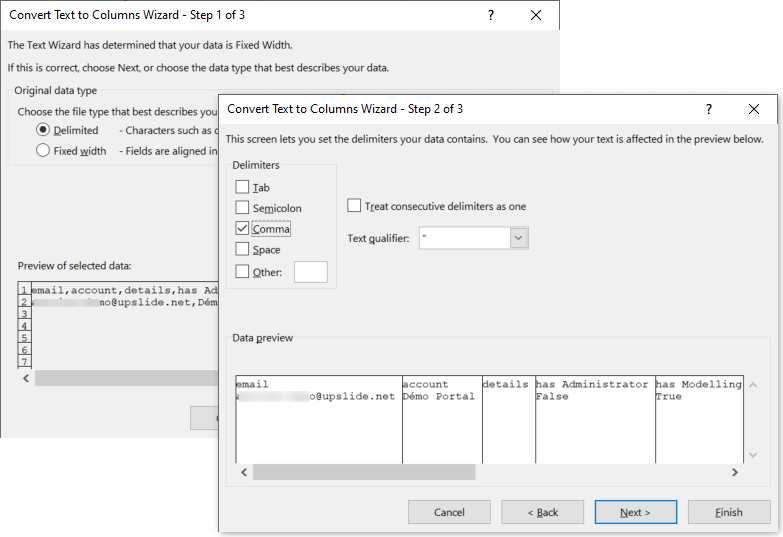 Changing UpSlide configuration settings
The Portal allows you to control the configuration settings. Changes you make to these settings automatically synchronize to user machines within 24 hours as long as communication to our server is enabled.
Content settings
The Team Settings page allows you to manage customization and libraries location. It is helpful in case you change these locations. UpSlide will retrieve these paths every day, so the users have the correct folders.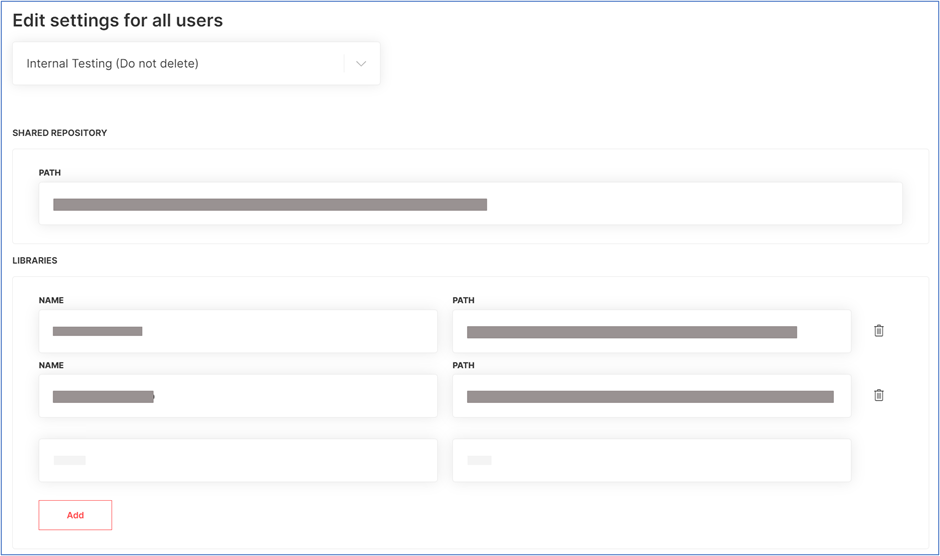 Configuration settings
You can adjust specific settings such as Auto SmartFormat. You can toggle it to enable/disable the setting, which will synch to user machines within 24 hours.