When UpSlide is deployed, a Support.exe file is installed in the UpSlide installation folder. This tool has been created to help easily detect and fix the most frequent installation and usage problems. You will find below a presentation of this tool's main features.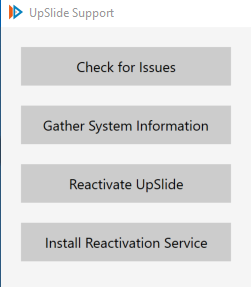 Features
Check for issues
This button performs a global check-up of the UpSlide installation. Support.exe will check the following:
UpSlide is installed on the computer
UpSlide has the needed permissions on the Installation folder
UpSlide prerequisites are installed on the computer
Office version is compatible with UpSlide
UpSlide has access to the Shared Folder

If not, the user won't be able to use the Library feature.

TypeLib
State of the BITS service. If it is not functioning properly:

The UpSlide automatic updates will be disabled
Tombstones and template customizations created by admins won't be up to date for the users
Gather System Information
Using this button, the user will be able to retrieve useful information, such as:
UpSlide version
.Net Version
Office version
Windows version
List of installed Add-ins in Excel, PowerPoint, and Word
This information can be used by our Support agents when investigating issues on the user's machine. It can also be sent directly to our Support team using the Send to support button.
Reactivate UpSlide in Office
If your UpSlide has disappeared from the Office menu, it's because the plugin has been deactivated. This can happen for various reasons as Windows updates or Office crashes. When this happens, UpSlide can be reactivated manually by following this procedure.
The Support tool makes it even easier, with a one-click reactivation that will automatically fix the issue.
Tip
Administrator rights are required to perform this operation.
Install Reactivation Service
This service can be installed if you're repeatedly suffering from UpSlide deactivation. Once installed, it will monitor your installation and automatically fix it when needed. For more information about this feature, please see here.