With the UpSlide Outlook signatures add-in, you can have a branding-compliant signature with your up-to-date info at all times.
Pre-requisites
You have an UpSlide license
The UpSlide Outlook add-in has been deployed by your IT manager
At least one signature has been set by your UpSlide administrator
How to use the add-in
Get started
Create a new email or a new meeting request. You should see a notification on top of the Send button.
Click on Activate UpSlide Signature.

Your signature is set. It will be inserted in new emails, replies, and meeting requests.
Edit or remove my signature
You can open the UpSlide add-in to manage your signature by clicking New Email and Manage Signatures in the Message tab.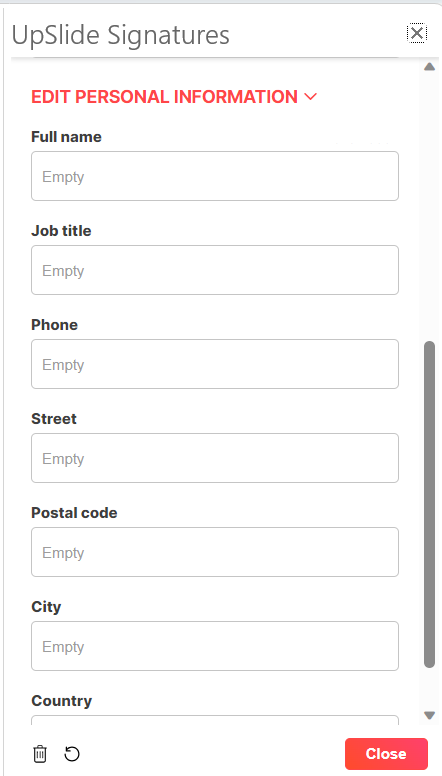 This pane should be filled by default, but you can:
Update your contact information with your company directory by clicking on Reset info.
Override a field of your signature to reflect recent changes. The modification will be kept for your next emails.
Uninstall your signature by clicking on Remove signature.
Manage which campaign appears on my Outlook signature
If your company has numerous email signature campaigns available, you will be able to select which one will appear as part of your signature.
Your choice will be remembered the next time you send an email.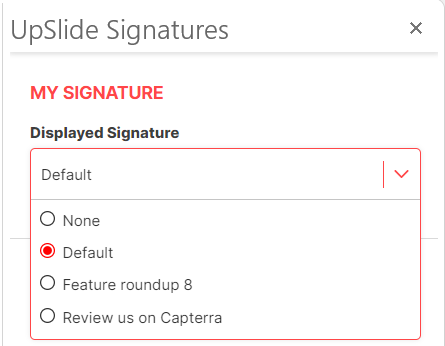 Enable/ disable my signature appearing on new emails, replies, or meeting invites
Withing the 'Manage Default Signatures' header, you can select where your Outlook signature will appear.
This can be managed for:
New messages
Replies/forwards
Meeting invitations