As an administrator, you can trigger an unobtrusive notification to your team of important changes you have made to a library item or about a new library item that will be especially beneficial. Similarly, your users can send you a notification when they have a suggestion of an update to slides in the library.
IT team setting up UpSlide for the first time?
What the team sees when you send a notification
When they open the library in the relevant Microsoft Office application the bell symbol will show the number of notifications. Clicking on each notification will pre-select the content in the library so the user can preview it and choose to immediately use it in their open document.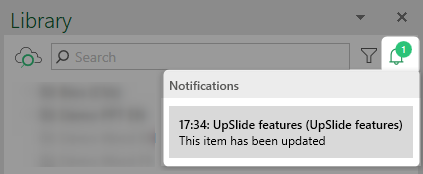 How Administrators can send a notification
Select the library item you want to notify the team
Right-click -> Notify users
Wait for the popup confirming a notification has been sent
Receive content suggestions from users
Admin users can receive content feedback and replacement requests from other admins or users in PowerPoint. This makes it straightforward to receive feedback and ideas from the people using the Library.
You will receive a notification in the Library pane informing you that a user has submitted a replacement request
The corresponding slide will be marked with an icon showing the number of different changes that have been suggested
Right-click on the slide and select View suggestions
You can review, accept or reject the proposed changes
If a change is accepted the user is notified with an unobtrusive notification. If it is rejected they are not notified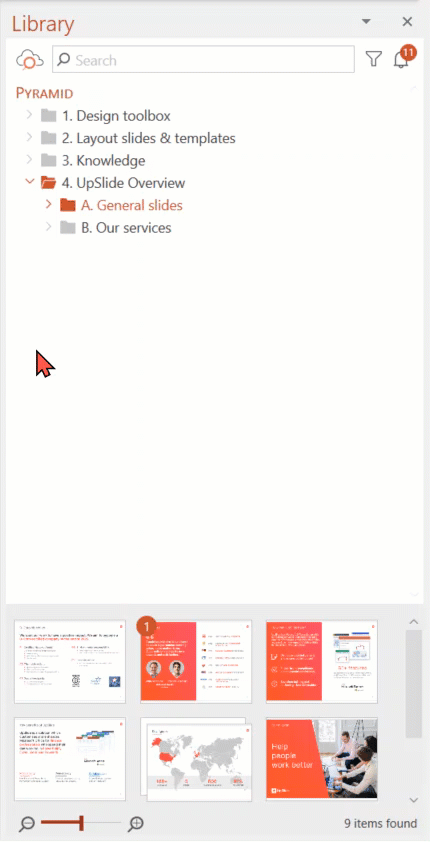 You'll only receive notifications for Libraries you have write access to. This is common at larger firms where teams have segregated content but some administrators may have read access to all but not write access. This will mean if a specific administrator cannot edit the content of a Library they will not recieve suggestion notifications for that Library area.
Can't see this feature?
To enable it, please reach out to your UpSlide Team or email support@upslide.net