As an administrator, you can edit the PowerPoint template(s) available in UpSlide within the Templates dropdown. Adjustments to the slide master(s) and live view of an UpSlide template can be made using native PowerPoint functionality. This is useful for small adjustments such as updating the copyright text or more substantial changes such as changing the formatting of your slides. This article outlines how to access and save edited templates within UpSlide.
Accessing the template manager
On the UpSlide toolbar (as an administrator user), you will find the Manage Templates button at the bottom of the Templates list. Select this and you will see a window which allows you to:
Manage the template name(s) and order of appearance in the template list
Set or change which template opens by default when a user opens PPT
Edit a template's slide master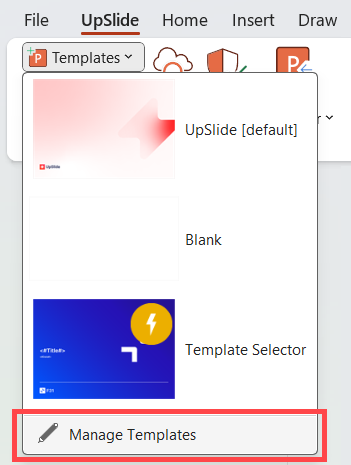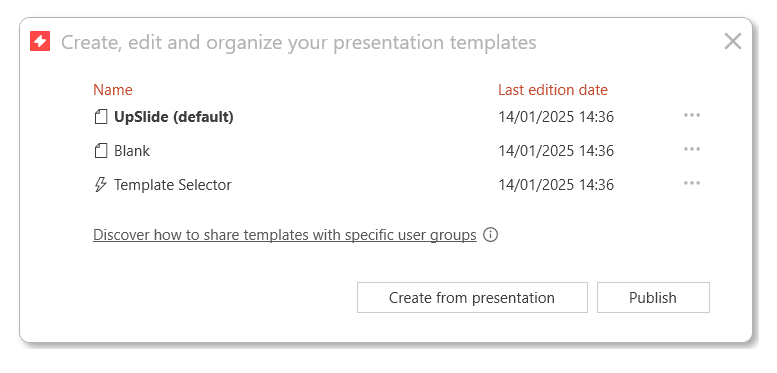 Managing how templates are displayed to users
Note
Changes you make using the template manager will initially be live on your machine only. To push your changes out to your team you must also complete
the export action
at the end of this article.
Reordering templates
When hovering over a template, the row will turn grey and arrows will appear allowing you to move the template up or down in the dropdown order.
Setting a default template
When a user opens PowerPoint or presses Ctrl + N to open a new presentation a set of slides are opened. Many of our clients have one default set that open in their branding. You may have two brands (like in our example) and want to change the one which appears by default. Using our template manager you can set any one of your existing PPT templates to open by default by using the options button available in each template row.
Editing the templates
Within the Template Manager, when you press Edit on a template, a file will open for you to make changes. This is a .potx file which, when you save, will apply any changes onto your machine only. Changes you make at this stage are not live with your team until you complete the export action below. As you make changes within the .potx, press save to apply the changes live on your machine.
There are two sets of changes you may want to make: editing the default slides and editing the underlying slide master(s).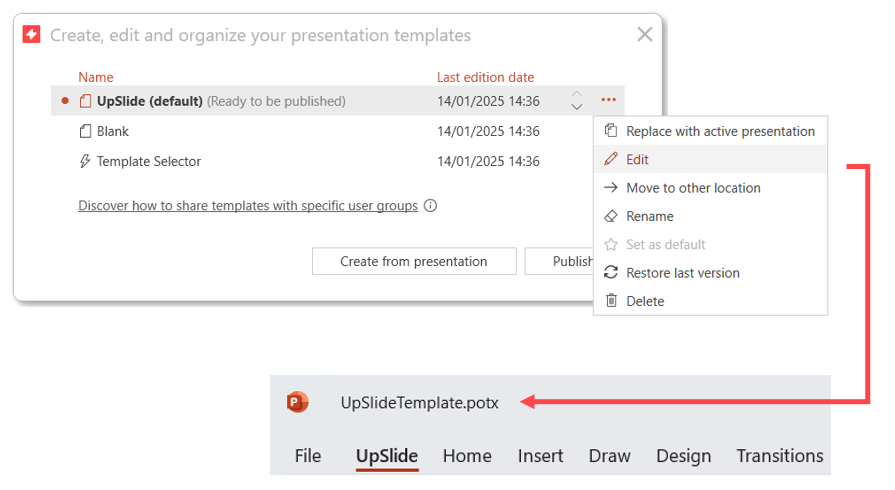 Default slides
When opening a template from UpSlide, a number of slides open by default. Often a disclaimer is included and a small number of example slide layouts. You may want to edit the existing default slides (such as updating the disclaimer or cover page image) or add/remove some of the layouts.
Slide masters
You may want to adjust content stored in the slide master or change the layouts available to users. Commonly this is where you may want to adjust the copyright year, or adjust the position of your logo within the slides. If you're unsure Microsoft offer an explanation here. You can also contact your UpSlide team for help.
Important
Editing slide masters can affect library content compatibility as well as the functionality of the automated section dividers and table of contents. The main things to avoid are changing the slide master, the master layout names, and/or the sizing/proportions of your template. Please test the working of the library and the table of contents before proceeding to export template changes to your users.
Exporting your templates changes to your users
The changes are now active on your machine only. Test the changes you have made before sharing the update with your team. Follow the instructions on this page to export the .UpSlide file so everyone has the updated templates.
Made a mistake and want to revert back?
You made a mistake when editing your templates and you want to revert back to the previous publication:

Click Manage templates and Restore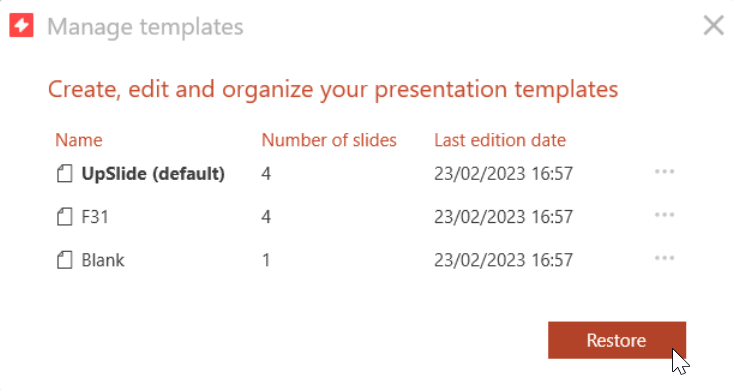 If you want to make significant changes and are having trouble please contact your UpSlide contact who can discuss options to use our team to help you achieve your goal. If you're not sure who your UpSlide contact is please email support@upslide.net.
Note
We at UpSlide do not receive any changes you make. All your template adjustments are stored and communicated within your existing IT infrastructure. This means that if you want your UpSlide contact to see your changes, you will need to send us the .UpSlide file directly.
Restricting access so only specific administrator users can edit PPT templates
If you work as part of a centralised administrator team at a large organisation we recommend you have some administrators who are only able to add/edit library content and a small number of administrators who can edit the PPT templates. To do this, request that your IT team only give write access to the customization path to those administrators that need to edit PPT templates. All other administrators (and users) should only have read rights to the customization path.