User groups are set up in the UpSlide portal to allow some users to have different settings to the general UpSlide users. For example giving some users access to additional modeling tools or a different library of content. User groups are helpful to have different configurations available within your organisation and automatically transfer users between those configurations as they move departments or job roles. All this flexiblity with just one invoice from UpSlide.
Will user groups benefit your organisation?
All users and user groups exist within an account. The account has settings which apply by default to all those users. User groups will provide more granularity and allow you to manage access more efficiently to reflect your team's individual needs. This means you will benefit from setting up user groups when you expect to have different configurations of UpSlide required within your organisation. I.E. User groups will be useful when you know different teams will need different features or Library content paths.
Adding a user into a user group will automatically apply settings from the account. You can then set different settings specific to that group.
What's available and what is applied by default

User Group 1
Libraries: add one area custom to them (L3) and include the default library (L1)

Templates: only one template (T2) and not the default template

Options: add Power BI link license to accompany the modeling
User Group 2
Libraries: add one area custom to them (L2) and include the default library (L1)
Templates: include the default template and add in two more (T2 and T3)
Options: no change compared to default
How these User Groups are interpreted to apply the correct rules to a user
When a user restarts Microsoft Office their email address is checked to the list of registered users on the UpSlide server. Details of this communication is found here.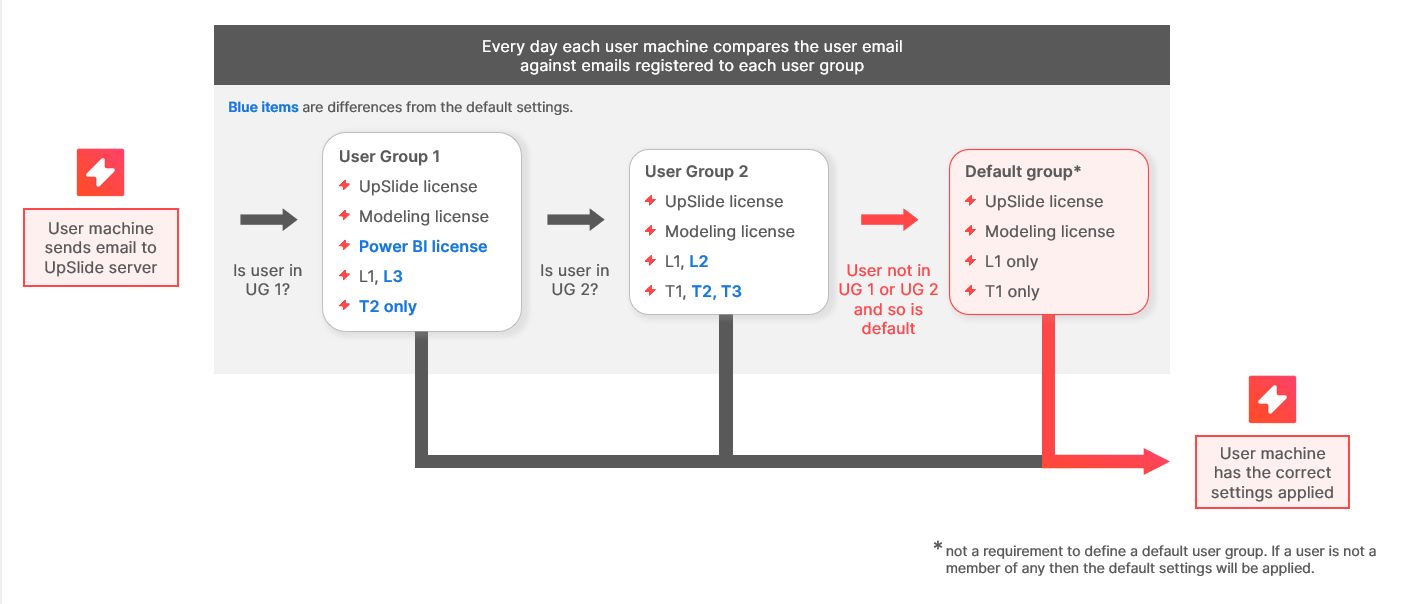 Setting up user groups
Define the groups
First define the groups you expect to use and the attributes assigned to them. For example:
All our users by default need access Library path #1 (corporate marketing content).
The finance department also need modeling tools and use Library path #1 and #2 (finance recurring reporting area).
Senior managers do not need modeling but do need access to Library #1
The sales team do not need modeling but do need access to Library #1 and Library #3 (detailed sales specific content)
In this example there are three groups:
General users (no modeling with Library #1)
Finance team users (General + modeling + Library #2)
Sales team (General + Library #3)
The senior managers are not a user group because their requirements are no different to the standard users.
Once you have defined the groups inform your dedicated implementation consultant to update your Portal to reflect these groups you defined. You can adjust the settings applied for the groups autonomously on the Portal.
Enable provisioning in Azure AD
Follow the instructions in our guide to enabling provisioning. Come back here after you have followed the instructions to continue the steps below.
Setting up the groups in Azure AD
You have now defined your user groups and enabled provisioning. You need to look for the name of the group that matches the UpSlide Portal and add it to the provisioning in Azure AD. Then click on provisioning, and every user within a user group will appear in the Portal. It updates every 40 minutes.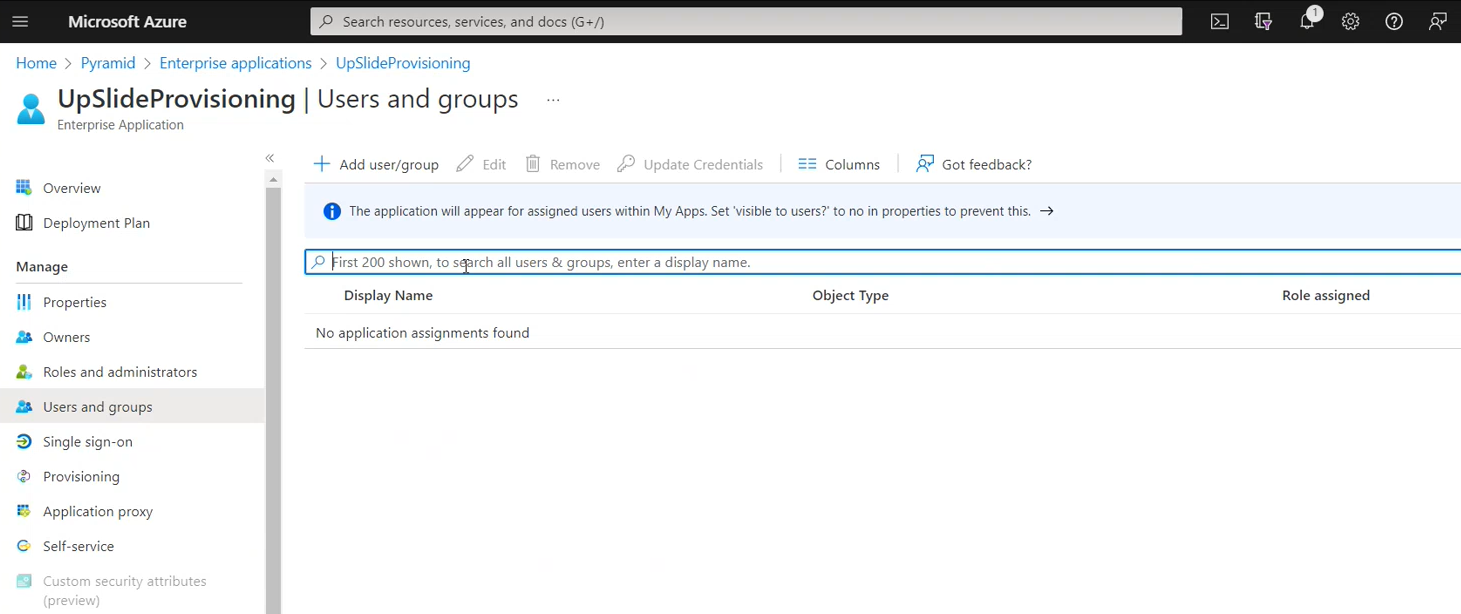 Tip
The name of the user group in the Portal needs to match the name of the user group in Azure AD. If you add single users or AD groups that do not match UpSlide user groups, they will still get a license but without a user group assigned to them.
If you are having trouble setting up provisoning and/or user groups please reach out to support@upslide.net