Introduction:
UpSlide supports two modes for copying data in Excel when exporting to PowerPoint and Word:
The 'As shown when printed' mode has been introduced in UpSlide v6.1 (released on 06/06/2018). Before that, UpSlide used 'As shown on screen'.
These modes are available in the Settings menu:
They correspond to Excel's native feature 'Copy Picture' modes: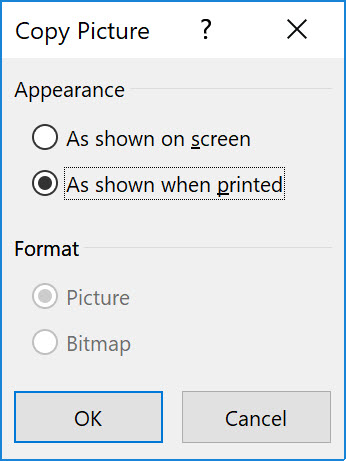 Comparison of both modes:
As shown on screen
Using 'As shown on screen' mode will - as its name suggests - export the image as it is currently shown on the screen.
Note that:
The zoom level is not taken into account when exporting. (i.e. Always exported on 100% zoom level.)
This mode is strongly dependent on the computer's display settings.
Indeed, aspect issues can appear when working with different workstations that have different display settings. (see here to know more)
As shown when printed (UpSlide's default mode)
Using 'As shown when printed' mode will export the image as it would appear on a printed document, using the drivers of the selected printer.
This mode will ensure that the whole export is visible, therefore printable. (contrarly to the 'As shown on screen' mode)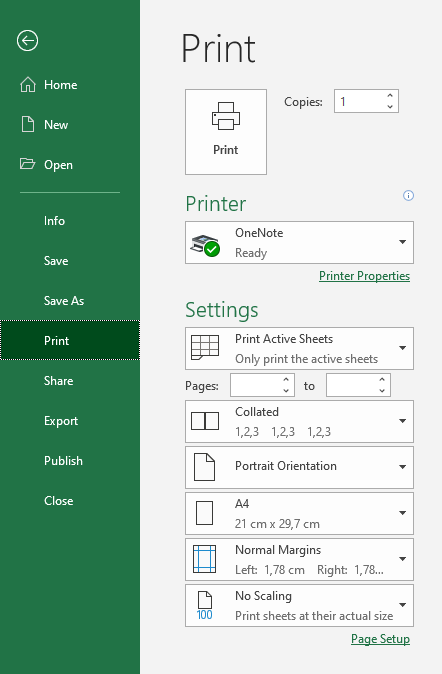 Here, the selected printer is "OneNote"
This mode is useful for working consistently in a team, since - provided all computers have the same printer - using 'As shown when printed' will always yield very close results in PowerPoint, regardless of their screens resolutions, DPI scaling, zoom level in Excel, etc...
But this mode is not perfect, and comes with its own issues:
If you use different printers, you will most likely get slightly different results.
If the users' default printer supports only black & white, all colors of an element exported 'As shown when printed' will be lost.
The quality of the exported element can vary according to the printer's quality. (images generated with an old fax printer are likely to be of poor quality)
UpSlide won't be able to export large quantities of Sparklines due to a Microsoft Excel limitation. The workaround would be to use the 'As shown on screen' mode.
Exporting using this mode can sometimes crop content or overall look wrong, which can also be visible when you physically print your document. (see here to know more)
Which one should I use ?

:
As we said above, both modes have their pros and cons. If you don't know which one to chose for your team, we recommend you use 'As shown when printed', which is the default mode in UpSlide and best suited for teamwork.
Migrating from one mode to the other:
Exporting the same element from Excel to PPT/Word with both modes will not yield the same result. Therefore, if a table that has been exported with the 'As shown on screen' option, is later updated with the 'As shown when printed' option, its appearance will change (height, fonts, lines, etc..)

As you can see the updated result is slightly bigger in height and has thicker lines.
If we do not want our exported element to change, the solution would be to manually change back the option to 'As shown on screen' before performing the Update, in this example.
Use a different mode for different exports:
Since version 6.4.0.5, UpSlide will automatically remember if your export was done in 'As shown when printed' or 'As shown on screen' mode. That way, you will automatically avoid the migration problem described in the previous section.
Please note for any exports you may have done with a version anterior to 6.4.0.5, we cannot know which mode you used. On the first update, we will use the mode in your settings, and mark the exported image, so we can remember it next time.
Also, note that this means you can't change the mode an image was exported anymore. We are currently working on a solution.