The .UpSlide file
is a set of files representing your

UpSlide templates and other customizations.
If your library and shared folders are hosted on a Sharepoint Online site, you need to follow these instructions to make the customization available for your users.
Install the customization on your computer
Download the .UpSlide file the consultant sent you and save it locally (on your desktop, for example).
Close all your Office apps (Word, PPT, Excel).
Open PowerPoint.
Click on Settings in the UpSlide ribbon and open the Templates & Styles tab.
Untick Use team settings and set the path to the folder containing the .UpSlide.
The .UpSlide should now be listed under History. Select it and click on Install.
You will be notified to restart PowerPoint.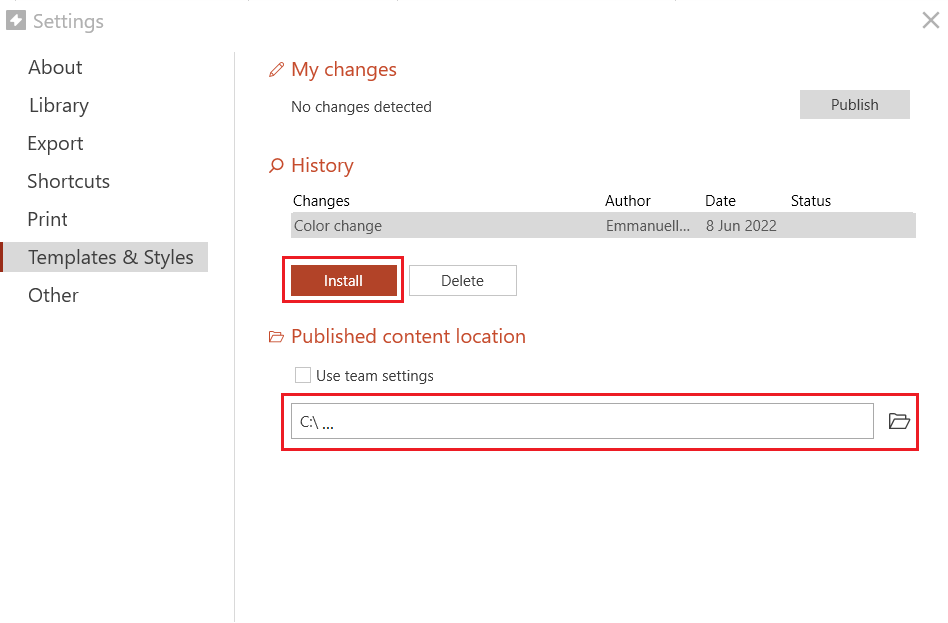 Share the customization with your users
Restart PowerPoint and click on Install when the pop-up window asks if you'd like to install the latest templates.
Tick the Use team settings checkbox to retrieve your SharePoint path or enter it manually.
Use Publish to export your templates to the rest of your team. UpSlide will upload the customization to the SharePoint folder.