Facing pages allows you to print some parts of a presentation in two-sided mode and keep one-sided in other parts. This allows you to add content to some 'blank' pages where you need them without having to manually create your pages or configure your printer.
Note:
Facing Pages is not available by default with UpSlide. If you don't have the facing page buttons available within PowerPoint but you'd like to use this feature please contact your UpSlide key contact.
Add a Facing Page
Select your slide. Whichever slide you have selected will be the facing page for the next slide in the presentation.

Click Add a Facing Page in the UpSlide ribbon.
Add your content. Your template may have a different layout used for facing pages. You can still change the layout after it is inserted.
Tip
The box on the left of the slide is to help show which are facing pages. It's outside of the print zone and used when printing so don't delete this box.
Remove a Facing Page
If you wish to remove the facing page completely simply delete the slide.
If you want to convert a facing page into a standalone slide simply delete the Facing Page box on the left of the screen (and where necessary change the slide layout using the layouts button)
When you next Create a Print Version you will be asked to confirm each facing page conversion to a normal slide.
Tip
You can change the layout of the facing page once it is inserted to give you more flexibility with how you display your supporting information.
Print a presentation that contains a Facing Page
Save your presentation

Click Create a Print Version in the UpSlide ribbon

Print the new document that is created
Adjusting your Facing Page printing settings
Not printing as you'd like? Or want page numbers to work differently when sending a PDF? There are several options available from the Print Settings: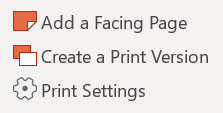 Two side printing: check this box when printing the document and uncheck it when creating a PDF (so your page numbering for both documents are consistent). When checked UpSlide will insert blank individual facing pages before each of the slides if no facing page is present. When not checked, no insertion of blank slides is made but only the page numbers are updated to reflect the facing pages.
Facing pages default layout: you can adjust the default layout used for facing pages among the available layouts in the slide master.
Use a layout for autogenerated pages: When two-sided printing is selected blank pages will be inserted in the print version. With this option, you can assign a specific layout to these pages (for example with a logo or a different background).
Remove redundant dividers: check this box to instruct UpSlide to delete any section divider that is immediately followed by a subsection divider. This is especially useful if your subsection dividers look similar to your section dividers.