With UpSlide's Arrange features, formatting in PowerPoint becomes effortless. The Arrange function will stop you struggling with the positioning of your objects and pictures, or spending hours trying to align elements.
Arrange your shapes from scratch

The Arrange function allows you to position multiple elements in one click in PowerPoint. These elements are called shapes in this article for simplification but can also encompass objects, text boxes, charts, icons and pictures.
Select the shapes you would like to arrange and click the Arrange button. A pane will appear on the right-hand side of your presentation.
At the top of the pane, you will find the different areas within which UpSlide can propose arrangement solutions. Hover over the options to highlight the different areas. You can add any shape of your own in the slide to form a new area.
Choose the area in which you would like to arrange the shapes. Different solutions to arrange the shapes will be proposed. Select the arrangement you would like to apply.
You can choose to fit your shapes on a single slide, or you can select the 'Split' option to separate your shapes across multiple slides. After choosing a container and an arrange solution, the current slide is duplicated as many times as necessary and the selected shapes are split across these slides.
In the lower part of the pane you can change the alignment and margins of the shapes.
Close the Arrange pane when you are satisfied with the arrangement of your shapes. They should be perfectly aligned and equally distributed.
Tip
Sometimes the Arrange pane will not propose any containers or arrangement solutions. Most of the time, this is because the selected shapes are too big or too numerous to fit in any existing container. To fix this, try to create a bigger container in your slide or to split the shapes on more slides.
Swap two shapes
When your shapes are all arranged you might still need to swap their positions. You can use our Swap tool to do so:
Select two shapes that you would like to swap. Please note the tool works for two shapes only.
Click the arrow on the Arrange button to open the drop-down menu.
Choose whether you want to swap their top-left corner position or their center position.
Tip
Next to the
Arrange
button, you will find the
Smart Painter
, which is useful for aligning and formatting your shapes (see
our dedicated article
). The other buttons around
Arrange
and
Smart Painter
are native PowerPoint features which may also be useful when formatting your presentation.
Arrange your shapes with an existing slide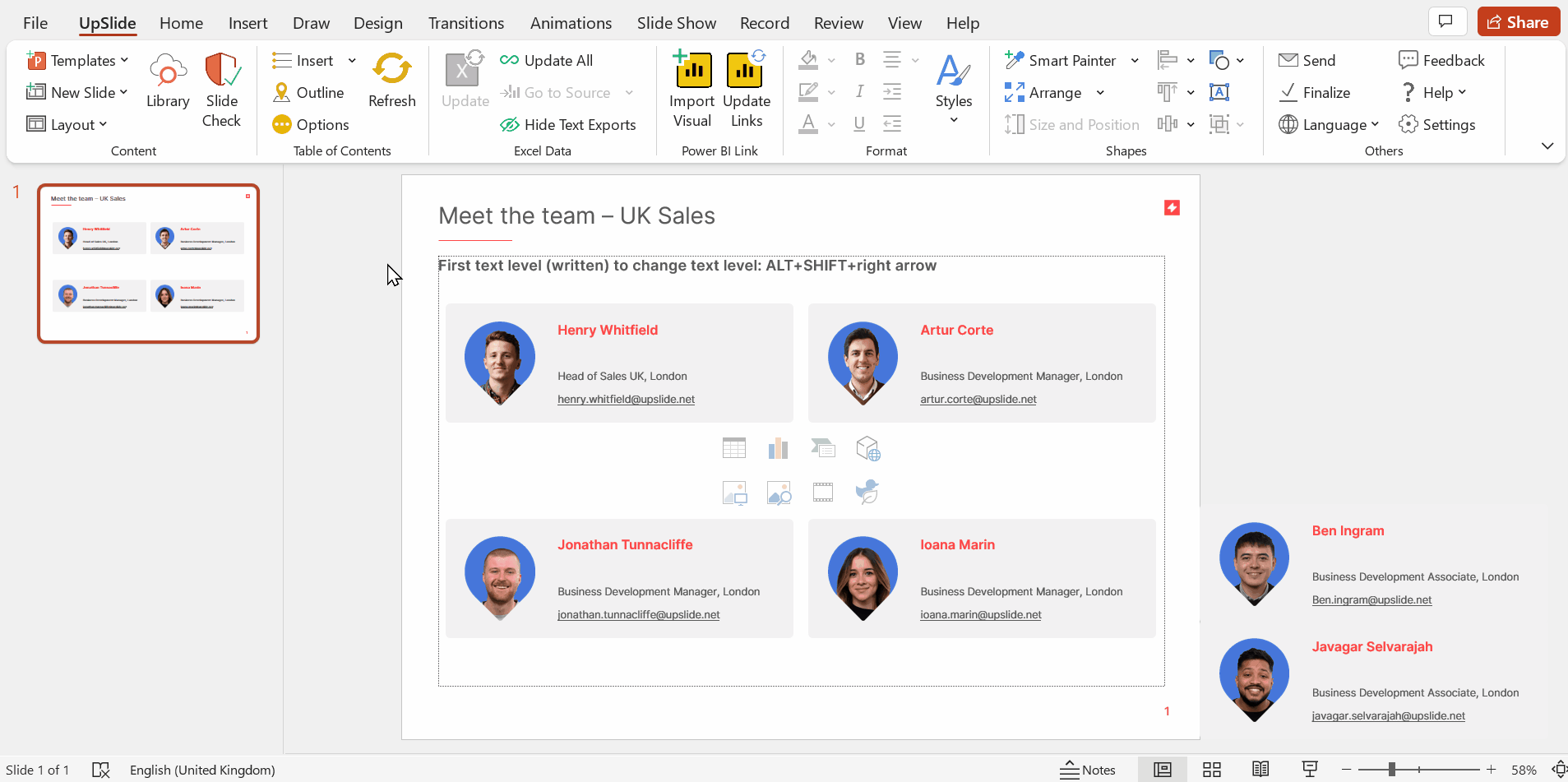 You can arrange additional shapes onto an existing slide.
Select the shapes on the existing slide and the shapes that you would like to arrange.
Click the Arrange button and select a new (or the same) area to arrange your elements.
Select a new arrangement.
Close the Arrange pane.