Summary
What is a slicer?
Slicers are another way of filtering. They narrow the portion of the dataset that is shown in the other report visualizations.
Example:
Slicers can be a list on the Power BI page such as Cities, Months, Client, Brands, Product categories...


For more details on slicer, visit Microsoft article about Power BI slicers
Which slicers values can be edited in PowerPoint with UpSlide?
UpSlide allows you to edit directly from PowerPoint the value of basic single value slicers.
The goal is to enable you to duplicate in a few clicks your PowerPoint report from one country to another or for one month to another.
Important
Only the value of a single value filter used as Slicer in Power BI can be edited from PowerPoint. Slicers with multiple values or other filters cannot be edited.
How to edit my slicers values directly in PowerPoint with UpSlide?
Once you have imported your visuals from your Power BI report to your PowerPoint presentation.
In PowerPoint, open the Update Links Panel

Click on "Edit filters value"

Edit the name of your slicer by typing it manually, then click on the tick symbol to validate.

Once you have edited your filters, click on the "Apply & Update" button
Congratulations! Your report is updated with the relevant datas!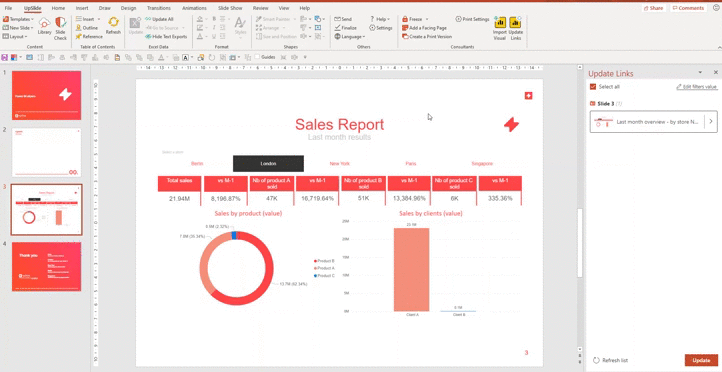 Important
The new value entered manually must exist in Power BI. To avoid breaking the filter, pay attention to caps and spaces!