Summary
Why use automatic updates?
When the auto-update is activated and UpSlide can communicate with our server your users can receive the latest version of UpSlide without IT involvement or disturbing users to install new versions.
We do not make fundamental changes to UpSlide through this automatic update channel either architecturally or from a user perspective. It is used for incremental feature improvements, reliability improvements and bug fixes as they are released. We issue these improvements every two weeks. Perhaps it's a feature you've been waiting for.
Automatic updates
At startup of Excel/PPT/Word UpSlide silently checks on our server if a new version is available. UpSlide will also check every 24 hours even if Office is not restarted. If there is an update available it will silently download it and start installing in the background. The user will be notified to close all applications to finish the installation.

Alternative: Locally hosted updates
When communications are blocked, a version update can be done using a .zip file, provided by your UpSlide consultant. Please find below the steps you will need to complete:
Place the .zip file will an "Updates" subfolder of your Customization path. This path is configured in the Customization tab of the UpSlide Settings.
At startup, UpSlide will download this zip file, extract its content and place the new binaries in the installation folder.
After a restart of all applications, the new version of UpSlide will be running for the user.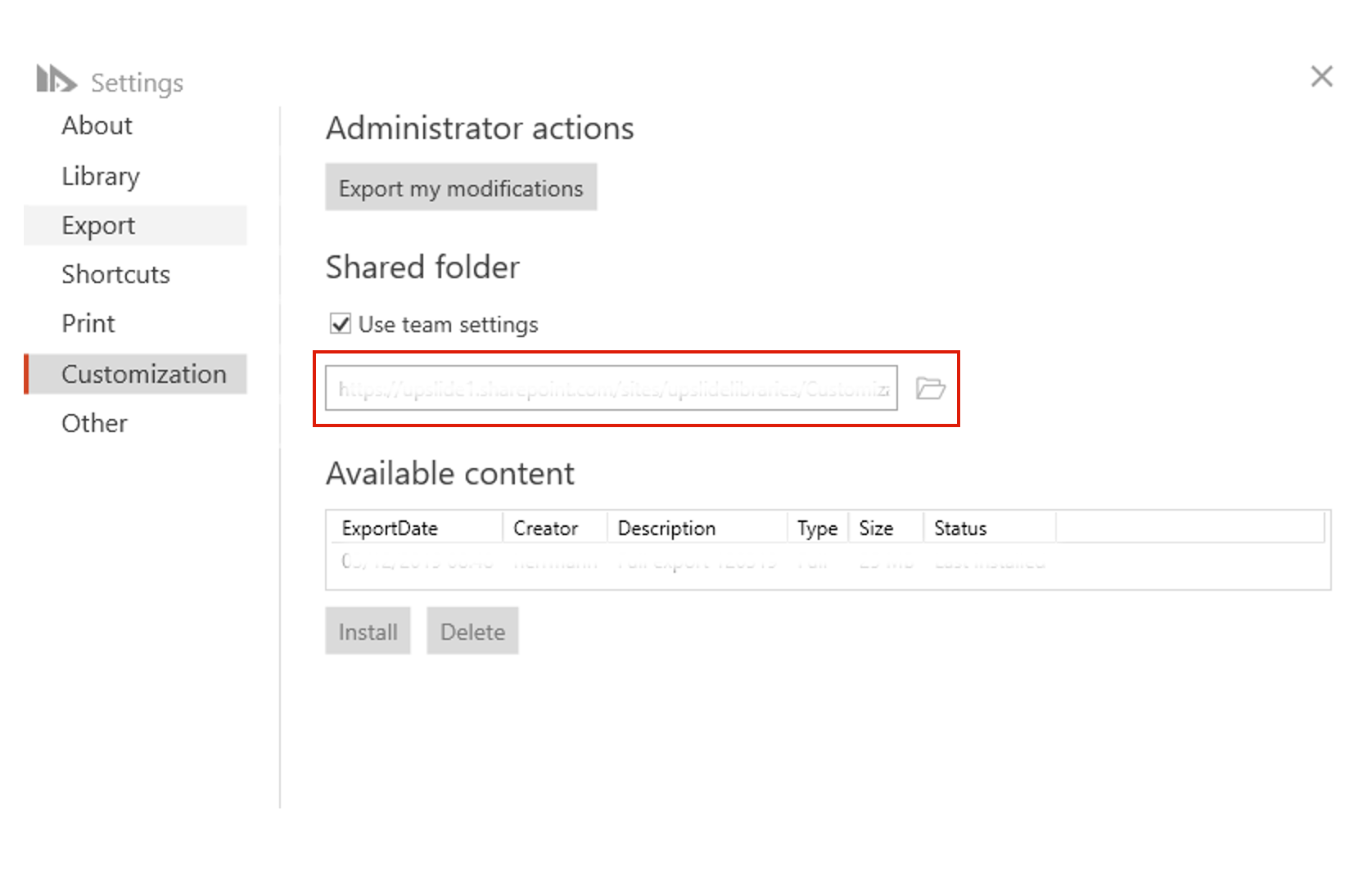 What does the user see?
In both scenarios described, the download and installation of the new UpSlide version will not require any actions from the user. At the end of the process, a notification will appear, prompting the user to close all Office applications.

UpSlide has not updated for me
Important
UpSlide only checks once a day if a new version is available. In order to finish the installation of the new version, UpSlide needs all Excel, PowerPoint and Word applications to be closed.
Best practice
Please follow the steps below to make sure you get the new version installed:

Restart your computer in the morning before using any application

Open only one PowerPoint or Excel window

Wait for the notification popup to appear

Close the PowerPoint or Excel file

Open only one PowerPoint or Excel window

The new version should be installed
Check the processes
If your UpSlide version did not update, it might be because some Office processes are still running in the background. This can happen even if you close the applications manually and they don't appear to be running.
To check that all Office applications are properly closed:
Hit Ctrl+Shift+Escape to open the Task Manager
Go in the Details tab and check if any EXCEL.EXE/POWERPNT.EXE/WORD.EXE process is still running
End the process using the End Task button