Most common issues
The library has not been set up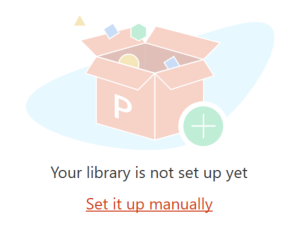 Clicking on the Set it manually link will open the Settings window where you will be able to configure a new library by clicking the Add library button.
The library can't be accessed
You are not connected to the Internet or Network, therefore UpSlide can't access the shared folder.
You don't have the proper permissions to access the shared folder.

If you open your Settings/Library, you will see a red cross next to the Library path.
You should contact your IT department and ask them for permission.