This article describes the administrator features of the Tombstone tool.
If you are a normal user, please see this article.
If you want to know how to set up the database (where to put it, how to share it, etc...) please see this article.
Administrators manage the collection of Tombstones.
They can add, or remove Tombstones from the database, modify their metadata, and change their shape.
They can also add, remove and edit what kind of metadata a Tombstone should have (date, amount, country, etc...).
Administrator buttons on the header
Compared to normal users, administrators have 3 additional buttons on the pane header:

Insert Tombstone
The first button, Insert Tombstone, allows you to add a new Tombstone to the database.
When the button is clicked, a new window pops up. Simply fill in the values and click OK to insert the Tombstone.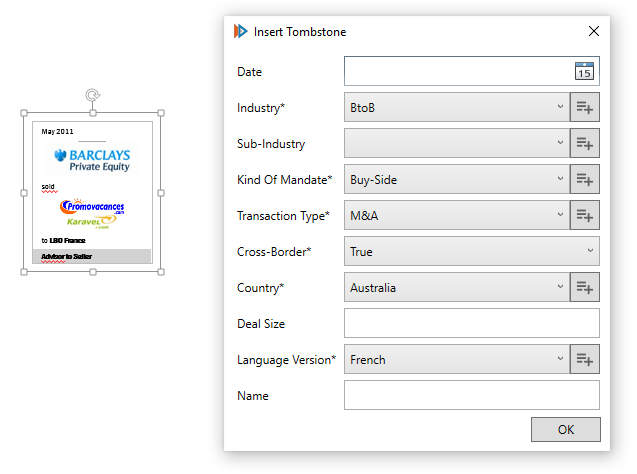 Edit Tombstone fields
This button allows you to manage the metadata that a Tombstone should possess.
You can rename, delete, or reorder an existing field.
You can also add a new field: just choose a Name, select a Type and decide whether it is required or not.
There are 5 different types of metadata fields:
Text: a free text field
Date
Boolean: can be true or false (or also N/A if not required)
Double: a number, positive or negative, with or without decimal points
ConstrainedText: a text field with limited possible values. The values are limited to what is actually in the database. To add a new possible value, add it when inserting/editing a Tombstone
The first type, Text, is a bit different and is not associated with a proper filter. Instead, it is a field upon which you can filter by using the search bar of the Search Tombstone tab (see first picture of the article). All the other field types will automatically be associated with a filter in the Filter tab.
If a field is required, it cannot be left blank when inserting or editing a Tombstone in the database. Note that if you add a required field to your metadata model, and you already have Tombstones in the database, the value of the newly added field will of course be blank (or N/A) for these Tombstones, until a value is manually set.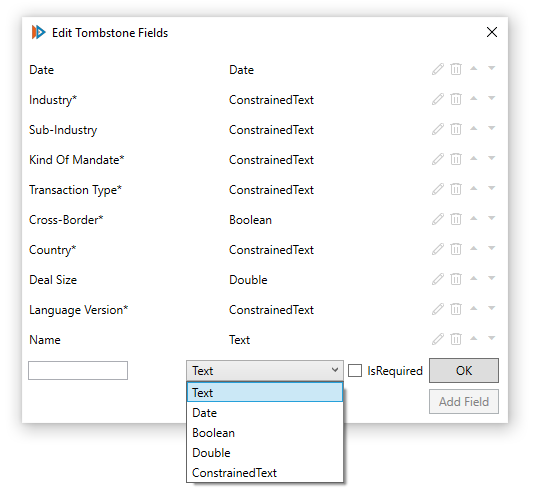 Import/Export Tombstones
This button allows you to import or export tombstones to different formats (Excel or PowerPoint files).
"Share database with team": You can also share directly your modifications with your team using this option. It will upload your new database to the configured LibraryPath in your Settings. All UpSlide users in your company will thus automatically access this new version.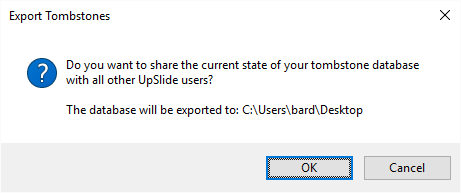 Administrator buttons on the result pane
As an Administrator, you also have two additional buttons on your result panel: Edit and Delete.
These buttons can be accessed by hovering over a Tombstone with your mouse, as shown on the picture below.

Edit Tombstone
The Edit button allows you to modify a Tombstone's metadata, or to keep the metadata but replace it by the selected PowerPoint shape.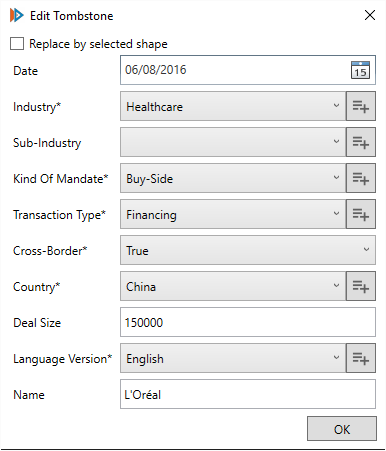 Delete
Finally, the Delete button simply allows you to delete the Tombstone.