As an administrator, you can customize all the formatting features in Excel to match your company's visual identity.
The behavior of the formatting features is governed by the active UpSlide style (see picture below to see how to switch between styles). In this post, you will learn how to create, edit or delete UpSlide styles. By doing so you will learn how to customize the following features:
Smart Format
Custom styles (police, size, color, background, space, etc.)
Smart Print
Number formats, Custom borders, etc...
To display the list of available styles, click the styles drop-down and click Edit style library.

You can easily add a new style or delete an existing one with the Add and Delete buttons. When you add a new style, it will use the default UpSlide formatting.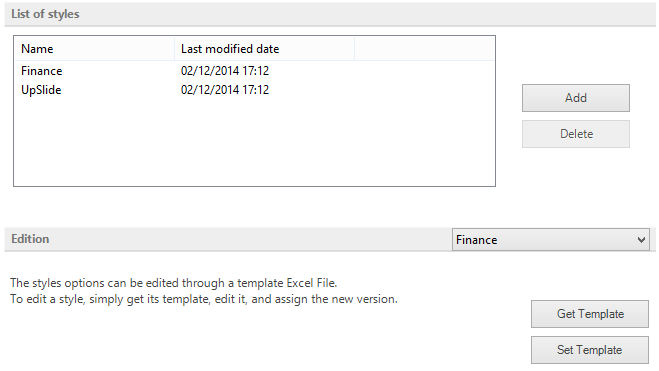 Edit styles
Each UpSlide style corresponds to an Excel template file, describing in detail the behavior of all the formatting features when the style is active. As an administrator, you will have to edit these files for the styles to work.
First, start by retrieving a copy of the template file. To do so, select the style you want to edit and click Get Template. You will then need to save a copy of the customization file which you can later re-import using the Set Template button. 
After saving the file, it automatically opens and you can start changing the behavior of each formatting button (one sheet per UpSlide feature).
For instance, in the Line Styles tab, you can:
Click the Add Style button to add a line style
Click the Remove Style button to remove a line style
Directly edit the cells to change the formatting used by the line style
When you later re import the template file, the Custom style button will reflect the changes you made to this worksheet.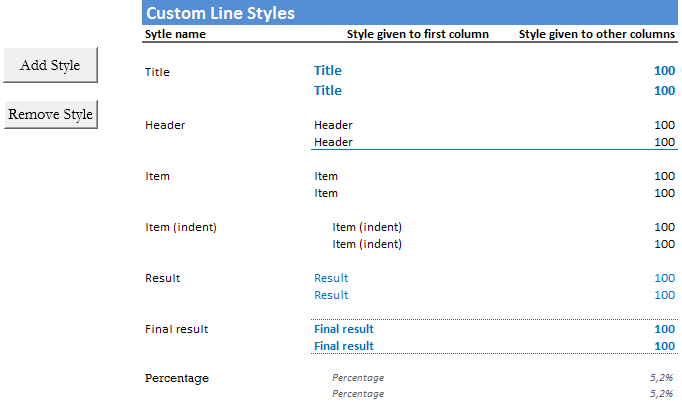 The behavior of all the remaining sheets is straightforward.