To access the Portal, go to portal.upslide.net. The Portal allows you to manage your licenses and adjust UpSlide's configuration settings for your team. Your login details should be provided to you by your UpSlide account manager. If you have any doubts or need another login to access the Portal, don't hesitate to contact support@upslide.net.
Purchasing licenses and options
When logging in to the Portal, you'll have direct access to your dashboard, which shows a summary of all the licenses and options assigned and available and a detailed view by account if teams are separated into different entities.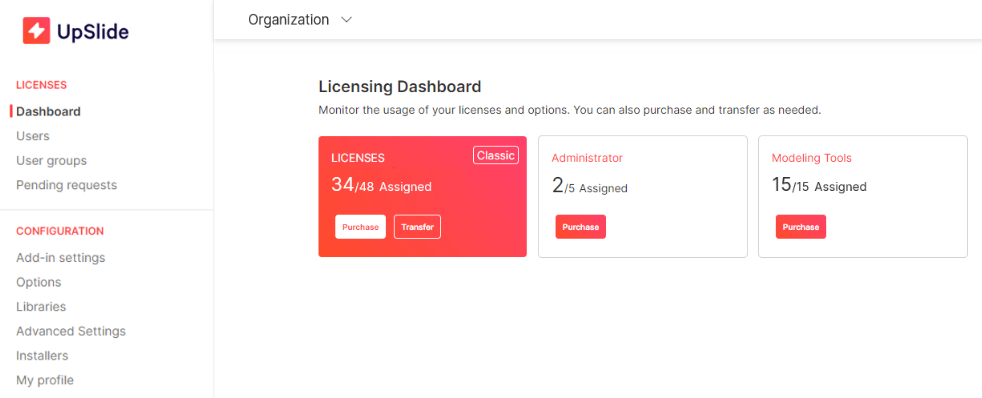 To purchase a license:
Click Purchase in the red frame
Enter the number of licenses you wish to purchase and click OK.
There will be a second window that appears asking you to confirm. When done, the licenses should automatically appear in the Dashboard.
Managing licenses
Overview of all users
To get an overview of all current UpSlide users click on Users. It shows the license status, available options and version in use for each user.
The different license statuses are:
Assigned: the user has been granted a license but has not activated UpSlide yet.
Activated: the user has activated UpSlide.
Expired: the user hasn't used UpSlide since the annual license renewal date. If the renewal occurred recently, this status is to be expected. You can check the renewal date by clicking the > next to a user's license to see the license expiration date.
Adding single users
To assign a new license, click on Add a user. The popup allows you to fill in the necessary information, such as email address, which account they should be part of, and the options they might need. You can also add tags or assign a User group to manage your teams better.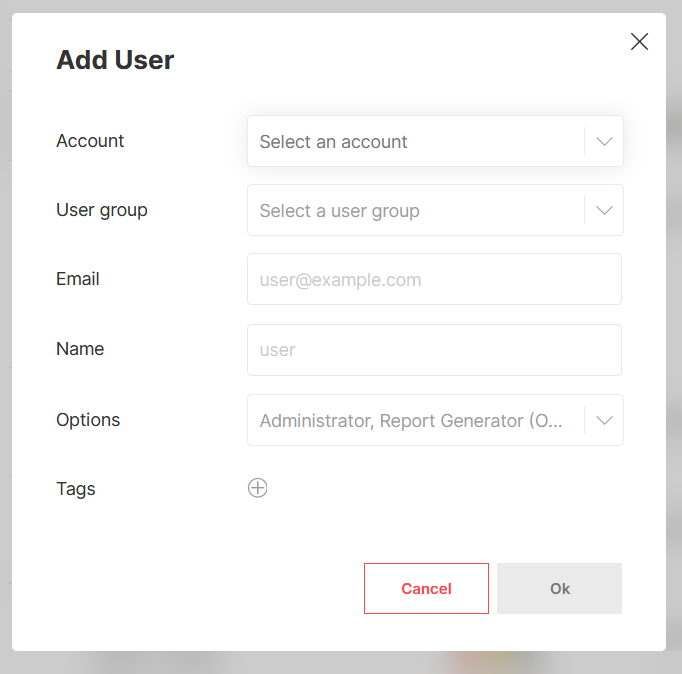 Note
Available options depend on what you have purchased and assigned. If you have purchased two administrator options and have them both assigned to other users, you won't be able to give this option to a new user until you remove it from an existing administrator.
Editing or removing single users
To edit user information, click on the pen icon in the User dashboard view. The changes will be applied to the user when they restart Microsoft Office. Similarly, you can click on the trashcan icon to delete a user license. They will lose access to UpSlide when they next restart Microsoft Office. To reassign a license to a different user, we recommend deleting the former before adding the latter.
Adding or editing multiple users
To add or delete multiple users, you can click Export to download the list of all users in a .csv or .xslx file. We recommend downloading the .xslx as non-English language machines can corrupt CSV files.
Each line in the file refers to a single user. If you want to edit an existing one modify the row. If you want to add a new license, add a new row of data at the bottom.
Once you have made your edits, click on Import to upload the changes to the UpSlide license server. These changes are instantaneous, so newly added users can immediately activate UpSlide and users with newly added options can restart MS Office to access the additional functionalities.
Tip
If you want to add multiple tags, separate them using the pipe symbol, e.g. Tag 1|Tag 2|Tag N
User requests
A user who has UpSlide installed on their computer but who hasn't been granted a license yet can send a request for one. These requests are visible in the section Requests.
You can click on the + sign next to the request to create a license as you would for a single user.
By going into My profile, you can also turn on notifications to receive an email every time someone without a license tries to activate UpSlide.
Create accesses for new managers on the platform
You might see another section on the left-hand side of the Portal's menu: Administrator. In this section, you can create accesses to the platform so other people can help you manage your team's licenses.
To do so, go in Admins access and click on Add admin. Once you have entered the appropriate information, the new license manager will receive an email to setup their password.
Note
If you can't see the Administrator section and would like to, contact
support@upslide.net
so they can grant it to you.