Issue:
You exported a table/chart from Excel to Word/PowerPoint, but you don't remember which file was used.
Solution:
To help you in this situation (and more generally when the source is uncertain), UpSlide proposes the Link Information feature. Click on the down arrow of Go to Source.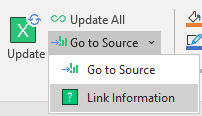 As shown below, you can check the path of the last used file:
If you click on the link, UpSlide will open the Excel file (it will fail if the file has been moved since).